I only work on the computers at work? Pfft. As if.
We have this machine we call the Embosser. Datacard 280 to be precise. It prints out credit card type things we give to the patients that come to our clinic. For awhile it was giving us problems and it finally went off line. We figured out what part we needed and had it ordered. Having someone come down here to fix it is really really expensive so I decided to give it a shot.
Here are some pics:
I guess I should of took a pic of it still together. Oh well, here it is with the hood opened. Also worth noting, I didn't have the right size L wrench for this thing but the CEO brought me his set from home. TEAMWORK!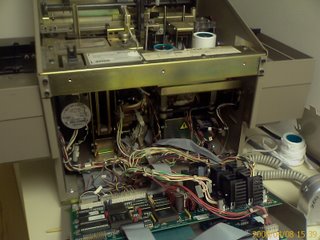 Below, I left in color the area I was working on. You can see in this pic the belt is not sitting right. There was some play in the shaft. Had to take it apart again and insert a flair type thing I had left out. Oops.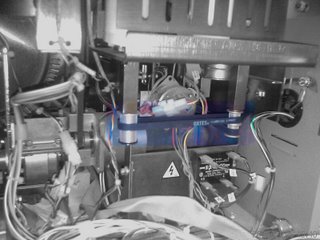 Below, is what I thought was the finished product. The belt is nice and snug but there is a difference in the two pictures. First one to guess right wins dessert.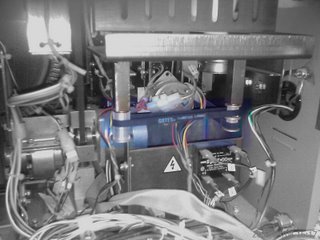 I just wanted to illustrate and talk about how I never thought that when I got this job, as a Tech at first and then the Director of IT as I am now, that I would be doing so many things noncomputer related. So when people ask me what I do here I always say I do a little of everything that has to do with digital or technical things. Whether it be the PBX system (telephone for the lamen folk), Televisions, or installing security cameras. All in a days work.
Many, Many things I did not learn in college. It's every man for himself out here in the real world!