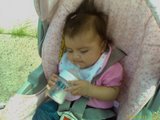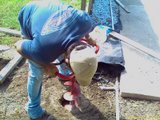 Maybe you seen these pics already on Jaiku but I thought they were blog worthy. The Vette needed more work today and after a long walk to the parts store things started to fall into place. Rob was able to pick me up at the parts store and save me a walk back. I thought the Vette needed a new battery terminal since the one that was in there was spinning and spinning.
Turns out it was the starter. We took it out and had it rebuilt. While that was being done I hung out with Rob and his baby. Rob dug holes and I fed the baby. I also helped holding some boards but mostly baby sat. 🙂
Once the starter was rebuilt the Vette came back to life! I also fixed a ground wire for the amp powering the speakers that had come undone underneath the car.
I started doing laundry and cleaned up the work bench which is the last pic.