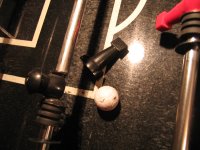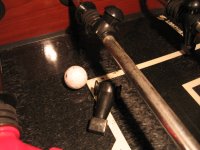 About a week or two ago,
Juan
and I were battling it out on the foosball table again when the unthinkable happened. As Juan spun his man to make a goal from the opposite side of the table he started to yell, STOP, STOP, STOP. I freaked out. I didn't know what was going on because I was in full defensive mode. Then I saw the carnage. The humanity. The dismemberment of one of his men. Like the scene of a seven car pile up; we could not look away.
The player is now in the process of reconstructive surgery due back at an unknown date and all games have been suspended.