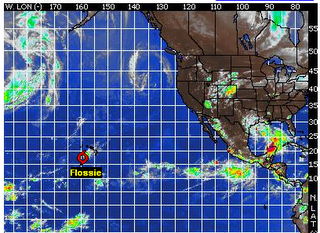 I am no history buff, but I know that the Rio Grande Valley has had its fair share of close calls when it comes to direct hurricane hits. I think it was hurricane Rita that shut us down at work. We took every PC off the floor, wrapped it up in plastic only for Rita to hit father up north. Better safe than sorry I guess.
As of now we are on Flood Watches across the valley. At least that is what they tell since I don't have a television. Luckily my friend Pat from work keeps me up to date on the weather via text message. Thanks Pam! I am sure her husband will be raking in the over time due to power failures. Lunch is on you when this clears up!
From what I googled here are the list of storm names so far:
Atlantic Storms:
Andrea,Barry,Chantal,Dean,Erin
Pacific Storms:
Alvin,Barbara,Cosme,Dalila,Erick,Flossie
Flossie is pictured above. She was about to take Hawaii out but luckily it was downgraded a bit. Maybe next time she will take me to Hawaii with her.
So keep me in your thoughts and prayers as we ride these storms out because of this.