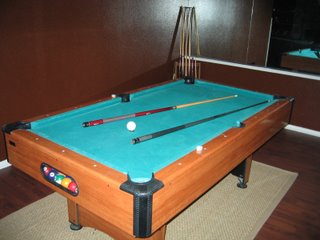 What bachelor pad is complete without a Pool Table? Earlier in the week I got a hold of the table pictured above from my former boss man.
If you have ever been to my house then you should right of way notice that this is now sitting where my dining table was. Sure, I could have put it in the garage but it just didn't feel right. The ideal place for me would have been in the game room but there isn't room in there for this. So here it went.
It is a six foot table and fits almost perfect here.
Pool party anyone?