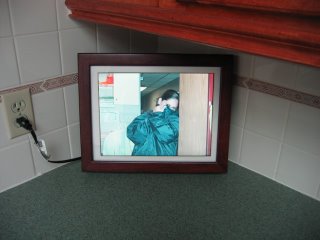 WOW. It came out great. Rob did a great job fabricating the frame.
I say Practically finished because I dont have access to the USB port right now, which means no Keyboard and Mouse. I want this to be a Picture Frame second and a functioning PC first. This way I can get online, check recipes, or make Skype/Gtalk Calls from the kitchen. It is running wirelessly right now and I Remote into it to make changes.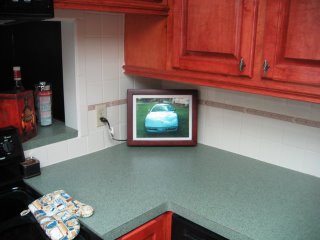 Later, we might have to add better cooling since as it is now the fan keeps kicking on. It shutdown on me once, but it later came back on. I believe its because of the heat.
I also might get some sort of stand for it to bring it forward so that the power wire isnt so exposed. It is leaning on the wall right now.
It kicks ass.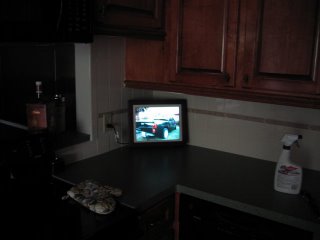 It gave me something to look at while making spaghetti this afternoon. I mapped My Pictures off my HP PC and setup the screensaver to display those pics. It's an option under Screensavers.
🙂