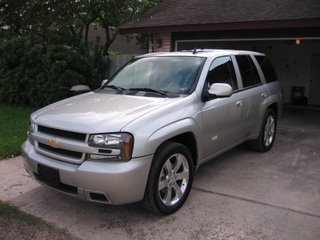 I will have to dig up the old post I made about the Super Sport Trailblazers I have been drooling over for the past year. I tried to get one last year but the bank wanted a ridiculous amount of money down to get a decent monthly payment. So I gave up on it and moved in to my home.
Well, almost one year later the dealership where I got my Colorado had a few more SS Trailblazers in stock but I never went down for fear of rejection. But then I started eyeballing this silver beast off the highway and I was so tempted to go in and see what they can do for me.
On the last day of March, a rainy day that is, I went down to the dealership and after 6 hours of being there I drove home with her.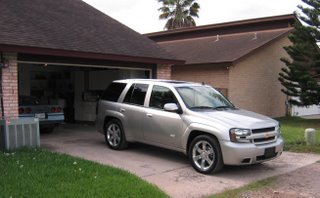 It is a 2007 Chevrolet Trailblazer Supersport. Or SS as we simply call it. Why is it an SS. The LS2 Corvette engine under the hood! And also the suspension, wheels, and other cosmetics not found in standard trailblazers. Its awesome, and I love driving it. It already has 1900 miles on the odometer!! I cant stress how much I love it. I love it to much!
Anyway, I took a long time to finally blog about her but here she is.