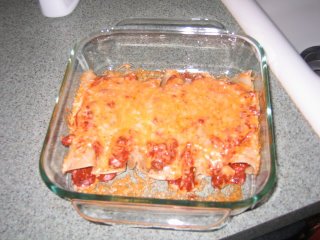 When I mentioned to Cindy, Robs sister, the
Entomatada
Recipe V gave me she suggested I try her very quick enchiladas.
Here is the recipe she gave me:
1. Lightly fry corn tortillas in medium-hot pan with oil. Just till
tender.
2. Let drain on plate with paper-towel.
3. Take all tortillas and roll one by one, filling each with chilli
con carne (any canned brand will do). (or, you could also
simply fill each one with cheese only)
4. After they are all rolled up, side by side in a baking dish,
top with more chilli con carne and then top with shredded
cheese.
Place pan in oven at 350 degrees till hot and melted. It will probably be around 15 minutes, or so.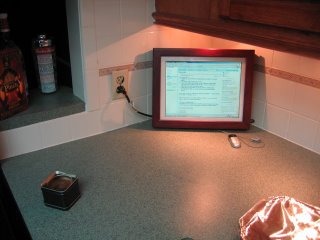 When it comes to cooking stuff I try to follow directions to a T. I keep my Kitchen PC right by the stove so I brought up her email and kept it up just incase. I know, I know, its a simple recipe. But still.
Anyway, they came out very very good. Don't make me decide which I liked better; the enchililadas or the entomadas.