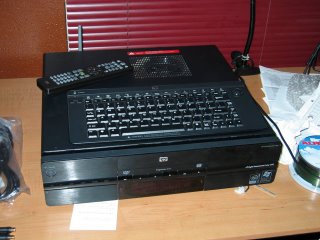 After 7 years it was finally time to get a new workstation at home. For 7 years I was running a 700mhz Gateway. It ran a slew of operating systems in those seven years. It came loaded with Windows 98. After that it ran Windows 2000, Red Hat Linux, SuSe Linux, Xp Pro , and at the end it is running XP Pro Media Center Edition.
It was still running pretty strong but it couldn't handle video to well. In my X10 entry I talk about connecting wireless cameras and the Gateway just couldn't handle it properly. It also couldn't hand Video calls in Skype to well either.
So I decided to make a trek to CompUSA to see if this computer that I have been eyeballing got any cheaper. It is an HP Digital Enterntainment Center z545. Pentium 4HT 3GHz with 512 of RAM and a 200GB Hard drive. The thing is Media Center first and a PC second. It has all the features of a DVD player and DVR in one. If I wanted to I could record two tv stations and watch something else, all at the same time. By looking at the pics below you can see all the connections in the back. Everything from USB2.0 to Component Video and Audio, S-Video, Firewire, and on and on. In the front it has more USB and A/V connections. It also has all sorts of Memory Card slots and one big slot for an external Hard Drive. It even has an FM Tuner which you can Pause and Rewind.
This things is normally 1500 dollars but I got it for 800 smackers! It was the one on display. Awesome.
As you can see from the pics it comes with a Wireless keyboard and mouse. They kind of remind me of the Webtv days. I didnt like the keyboard much so I went out and bought another keyboard and mouse.
So, the only thing missing is a nice screen. I am still using the 7 year old CRT and it just doesnt cut it! Everything is to dark. I have everything all maxed out. Computer use is fine but DVD playback and TV are just to dark. I love it so far.
And more thing. Yes, that is a Wifi antennae.