Just call me Mello Yello!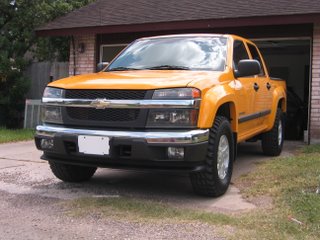 I am now the new owner of a new used 2005 Colorado Z71 that happens to be Yellow! I got her two weeks ago from today and finally got the dealership to give it a good wash (on a rainy day), so I took some pics of her.
I had a pretty bad experience with Ed Payne Volkswagen out of Brownsville, TX and even though I would get 100 dollars for a referral I would not recommend them to anyone. Yes, I got bad credit and I did have a hard time getting a car loan BUT Ed Payne was not the only dealership willing to work with me, but they were the only ones with a truck I liked.
My friend
Rob
says to never talk numbers with friends about a car you purchase so I will just say that they were selling this truck a little high for what it is but I was also just wanting to get into a truck really bad so I over looked it after getting shot down by them at the low ball figure I gave them. In the end, they sold it to me for 1000 dollars more then what I had offered but supposedly it was because the bank was taking a chance with me.
On test drive, what I really did not like was the interior. It is a gray color, when I like dark colors. My first Colorado was a Dark Gray so I liked that. Secondly, the interior was dirty and had not been cleaned by the dealership. When the deal was done the salesman said he would pick up the truck the following Monday to have it washed. Did he do it? NO!
What he did do, was harass me at work (
Adri
can attest to that) about calling some 1-800 number for a new customer interview or something. I thought this was to evaluate the salesman so I waited a day to do it. Turns out it was to verify information on me and on the truck. Turns out the bank thought the truck had leather, sun roof, and power seats.
So when I called the following Monday to see about getting the truck detailed all I got was a call back the following day to come in to sign some more papers. Man, I was a little angry. On my way home, I called the sales manager and let him have it about not getting my car cleaned, no full gas tank and just about being disappointed about it all. He apologized a lot, promised to clean it, fill up the gas tank, but I still had to come in to sign more papers.
Well, when I finally went in today to sign the papers it turns out they wanted me to give an additional 1000 dollars because of the mistake THEY did when they submitted the wrong information to the bank. PFFFFFT
I was ready to leave the truck there and walk home when they finally said they would eat the 1000 dollars. So guess what? My payment went down about 30 bucks. That's about 1400 dollars off the truck loan.
They washed the truck, and removed some of the stains in the upholstery but will have to take it in somewhere to have it done right.
Here are a few more pictures: