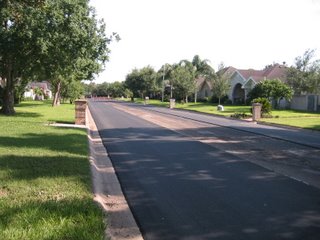 Came home today during lunch for a pleasnt surprise! Last week their was a notice in my mailbox that the County was going to work on the street starting on the second, which they did but they just covered some of the holes, like the one pictured in the first pic.
I snapped some pics when I got out of work and they are doing pretty good. Looks like Lightning Maqueen was doing the work!
The first pic was taken 2 or 3 months before I moved in as you can see from the date stamp.
And in case you were wondering, thats my neighborhood and that is my flag. 🙂